When you haven't gone grocery shopping in about 3 weeks due to CRAZY life, like me, dinners can get tricky. Luckily we have been living out of the pantry and I wanted to share this great recipe that was easy, quick to make, quick to clean up, and was good too. I just had to share, it is a keeper!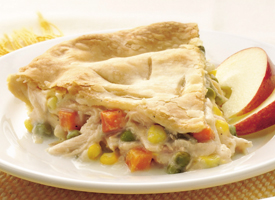 Easy Chicken Pot Pie
1 medium onion, chopped
2 Tbsp oil
1/2 cup flour
1 tsp poultry seasoning
1 can chicken broth
3/4 cup milk
1 can cooked chicken (find it by the tuna)
1 small bag of frozen mixed vegetables, thawed
2 refrigerated pie crust
1. In a large saucepan, saute onion in oil until tender. Stir in flour and seasoning. Gradually add broth and milk. Bring to a boil; cook and stir for 2 min. until thick. Add chicken and veggies.
2. Transfer to a 9 inch pie plate that is lined with one unrolled pie crust. Top with other pie crust. Trim, seal, flute edges. Cut slits in top.
3. Bake at 450 degrees for 15-20 minutes or until crust is golden brown and filling is bubbly.